Business domain and profit model
SymBio will focus on the development of new drugs focused on the "Underserved Therapeutic Areas" that is expanding along with the structural changes in the pharmaceutical industry, and will aim for sustainable growth as a company through activities that meet unmet medical needs.
[Business domains of SymBio Pharmaceuticals]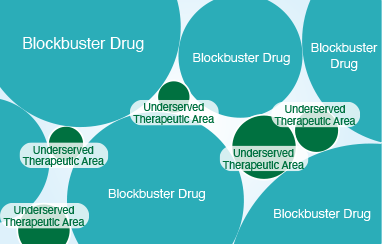 Challenging the "Underserved Therapeutic Areas "───
We will develop and provide new drugs that fill the "Underserved Therapeutic Areas" where medical needs are extremely high but development has been postponed due to the small number of patients, thereby making a high contribution to medical care and contributing to the sound development of the pharmaceutical industry.
[Approach based on medical needs]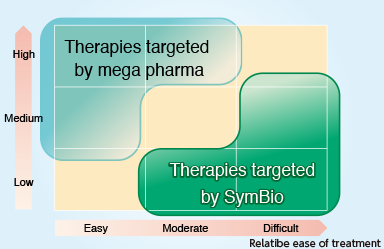 We are working on a "niche market" that is difficult for major pharmaceutical companies to enter in terms of profitability, but where medical needs are high and treatment is difficult. In particular, we are promoting new drug development centered on "rare diseases centered on oncology, hematology, and viral infections," which are particularly difficult.
[Profit model that sets it apart from mega-pharma]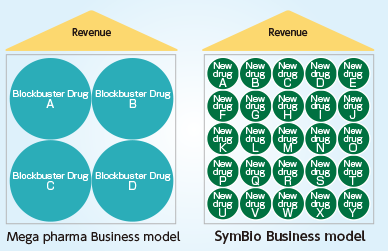 Rather than aiming for growth through blockbuster drugs like mega-pharmaceutical companies, our profit model is to develop drugs with high medical needs, even if the market is small, and accumulate profits from these drugs. In addition, we aim to become Japan's first global specialty pharma and achieve sustainable growth by creating a platform for borderline diseases for which there are many unknowns and there are no effective treatments across two or more different disease areas. We will make sure.